Hancock
Talk

0
22pages on
this wiki
Hancock
Biographical information
Real name

John Hancock

Other aliases

John Hancock

Occupation

Full-time superhero

=
Phisical description
}}
Species

Immortal superhuman

Hair color

Black

Eyes color

Brown

Abilities

Ivunerability and immortality

Behind-the-scenes information
Universe
Current status

Alive (residing in New York City)

Portrayer
Hancock is a fictional superhero of the Hancock film series. Called John Hancock, he is an alcoholic, down-and-out and incredibly sarcastic superhuman, who doesn't remember about his past or why he possesses his superpowers. Later, Hancock would learn who he is and become a popular superhero.
Biography
Edit
Early life
Edit
The man who would be known as Hancock was a member of a species of immortal superhumans, at their time being called gods or angels. Hancock lived for more than 3000 years and is a descendant from the Ancient World, having lived and impacted several civilizations like Persia and Greece, and there is no knowledge of his parents. His kind was created in pairs so that they could live together as normal Humans, grow old and later die. Although, if the pair seperate, each of them retains superhuman abilities. While living in Miami with his wife, he tried to stop a mugging and his skull was fractured, causing amnesia. After his wife took him to a hospital, he woke up and didn't recognize her. She then decided to leave him so he could recover from his injuries and live forever.
Suffering amnesia, not remembering anything about his past, and only having two theater tickets for a Frankenstein movie in his pocket, he decided to keep on with his life, always thinking he was a bad person in the past because of the fact that no one searched for him at the hospital. He soon discovered he possessed superhuman powers, and because he thought he was the only one of his kind, he isolated himself from the world, building a house in the desert.
Superhero
Edit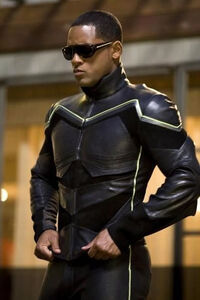 During the next eighty years, Hancock would become a known as a "superhero" in Los Angeles. Although he wanted to do the right thing and use his powers to stop criminals, his activity inadvertently caused millions of dollars in property damage due to his constant intoxication. As a result, he was routinely jeered at the crime scenes. Hancock also ignored court subpoenas from the city of Los Angeles to address the property damage he had caused. However, one day Hancock saved the life of public relations spokesperson Ray Embrey, who decided to improve Hancock's public image as a thanks. Hancock then went to Ray's house, where he meets his son Aaron and his wife Mary Embrey, who thinks Hancock is a lost cause. The spokesperson then convinces the alcoholic superhero to permit himself to be jailed for outstanding subpoenas, so they can show Los Angeles how much the city really needs Hancock. During his time in jail, Hancock had some initial "disturbances" with the inmates (as most of them were arrested by him), but later constantly participated of group teraphy and reconsidered his life, becoming a more serious and responsible person. Some time after Hancock's incarceration, the crime rate rises significantly on Los Angeles, and the superhero is contacted by the Chief of Police when a group of criminals holds several hostages during a bank robbery. Wearing a new costume made by Ray, Hancock intervenes with the bank robbery, rescuing a police officer and defeating the robbers one-by-one. However, the leader of the robbers, Red Parker, was holding a detonator, in order that if he takes his hand out of the button all the hostages would be killed. Red Parker then asks Hancock to open the bank's vault, but Hancock quickly used his powers to cut off Parker's hand, after being called an asshole, preventing the death of the hostages.
After the rescue, Hancock is applauded for handling the bank robbery. The superhero becomes popular once more, as Ray had predicted. He goes out to dinner with Ray and his wife Mary, with whom he reveals his apparent immortality and his amnesia from eighty years ago. After tucking a drunken Ray in bed, he went to talk to Mary. Hancock was feeling attracted by Mary, and as he tried to seduce her, she revealed she also has superhuman powers, punching him through a wall and onto a car on the street. Hancock then threatens to expose her to Ray unless she explains their origins, and she tells him the history of their species. She explains that they are the last of their kind and that their kind are paired. Mary does not tell Hancock the entire truth, and he departs to tell Ray about the conversation. The exchange results in a battle between Hancock and Mary that takes them to downtown Los Angeles, causing significant damage to the area. Ray, in a business meeting, sees and recognizes Mary using abilities like Hancock's. At Ray's house, Mary explains that she was Hancock's wife in the past and that they have a strong connection: no matter how far she runs, someday Hancock would inadvertently find her.
Angered, Hancock went to a liquor store, where he intervenes in a robbery. However, he is shot in the torso and is wounded. After being hospitalized, Mary visits him and explains that as a pair of immortals gets close, they begin to lose their powers, and that's why all the members of their species had already died. She also explains to him that his amnesia is the result of an attack that happened eighty years prior, and that she deserted him in order for him to recover from his injuries and live as an immortal. After her explanation, however, the hospital is raided by Red Parker, who had escaped from jail alongside two other criminals that Hancock had fought during his incarceration. Although Mary is shot in the process, Hancock is able to stop two men, but is further wounded by them. When Red attempts to finish Hancock off, however, Ray Embrey saves him and stops the criminal with a fire ax, cutting off his remaining hand. With Mary nearly dying, Hancock realizes that the only way to save her life is to leave her, and he uses the last of his strength to flee from the hospital so that their parting would allow her to heal with her powers. Hancock later winds up in New York City, working as a superhero. As gratitude to Ray, Hancock paints Embrey's All-Heart logo on the moon and calls the spokesperson to look up to the worldwide advertisement, saying that he is going to change the world.
Powers and abilities
Edit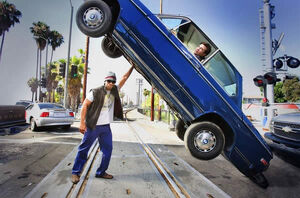 Hancock is a member of an almost extinct species of immortals, often called gods and angels. He was created as a pair with his wife, and if they lived together he would become an ordinary human. Although, if he stays away from his opposite (in this case Mary Embrey) he would regain his immortality and along with his other superhuman abilities. He is invulnerable to everything, including bullets, and possesses various superhuman attributes, such as superhuman strength, toxin and poison resistance, fast reflexes, incredible stamina, and its revealed in the Director's cut that he also has the ability to control the wind, where as Mary can control lightning (which explains the storm that showed up when the two of them fought). His whole anatomy seems to be superior, with his nails being sharper than razors. He posseses an accelerated healing factor, but as he is invulnerable most time meaning that he hardly uses this ability. Hancock is also able of flying at supersonic speeds, and his landings often destroys the pavement. It is also believed he is capable of interplanetary flight, as he was able to reach the moon, showing that he may be able to reach the Earth's escape velocity (approximately 25,000 mph). Although, it is shown that he can be affected by alcohol and other types of drugs. Even with all his superhuman abilities, Mary Embery claims to be stronger, but as there is no proof it is assumed she was bluffing.
Originally, Hancock does not use a "superhero costume" (as he often saw it as a "gay" style), but he has an affinity with eagles and often used an eagle symbol on his cap. During his incarceration, however, Ray Embrey designed a costume for him, which he reluctantly wears during his first public appearance after getting out of jail. This was a black leather full-body suit, with an eagle symbol on the back. Hancock later adopted this costume as a superhero on New York City, where he was seen alongside an actual eagle atop the Empire State Building. One of his key traits is that he feels very enraged when someone calls him an "asshole" or jokes about his costume. He also commonly says to a criminal that "his head is going up another criminal's ass, or "call me an asshole, one more time" and he made this during his incarceration, although he felt this was a nausean act.
Behind-the-scenes
Edit
The John Hancock character was created to be the main character of the Tonight, He Comes project in 1996. Screenwriter Vincent Ngo wrote a spec script about a twelve-years-old troubled and fallen superhero, and Tonight, He Comes was taken as a potential project.[1] Ngo revealed that the inspiration for the Hancock character was Superman, and he wanted to do a version of Superman that was more real and challenging, taking the Superman genre and turning it upside down.[2] Screenwriters Vince Gilligan and John August performed rewrites on Ngo's script, and a page treatment was written to be pitched to actor Will Smith to portray the lead role on the film, even before Smith was really commited to participate of the project. Later, director Peter Berg was attached to direct Tonight, He Comes with Will Smith as the main character after Smith finishes filming I Am Legend. The director compared the original script's tone to Leaving Las Vegas, calling it "a scathing character study of this suicidal alcoholic superhero". The director explained the rewrite, "We thought the idea was cool, but we did want to lighten it up. We all did."[3] Before filming began, Tonight, He Comes was retitled John Hancock[4], and eventually shortened to Hancock[5].
Triyng to focuse less on the visual effects, the filmakers believed that the film's success would come from the character study of Smith's character, John Hancock, similar to Robert Downey Jr.'s acclaimed portrayal of Tony Stark in the previous release Iron Man.[3] Will Smith himself stated that the character "is not your average superhero. Every day he wakes up mad at the world. He doesn't remember what happened to him and there's no one to help him find the answers."[2] To give a realistic appearance of superhero flight, Smith was often suspended by wires 60 feet above the ground and propelled at 40-50 miles per hour.[6] Similar to Superman's trademark "S", Hancock's symbol is an eagle. Apart from the one on his costume, lots of eagle images are seen during the movie course (i.e. at the beggining, the bench where he is sleeping says "Move Toward Your Dream" and have an eagle image. Later, in the scene where he uses his costume for the first time and walks to rescue a female cop, an eagle statue can be seen in the background).
Appearances
Edit
References
Edit
External links
Edit